Crossfit Indestri
---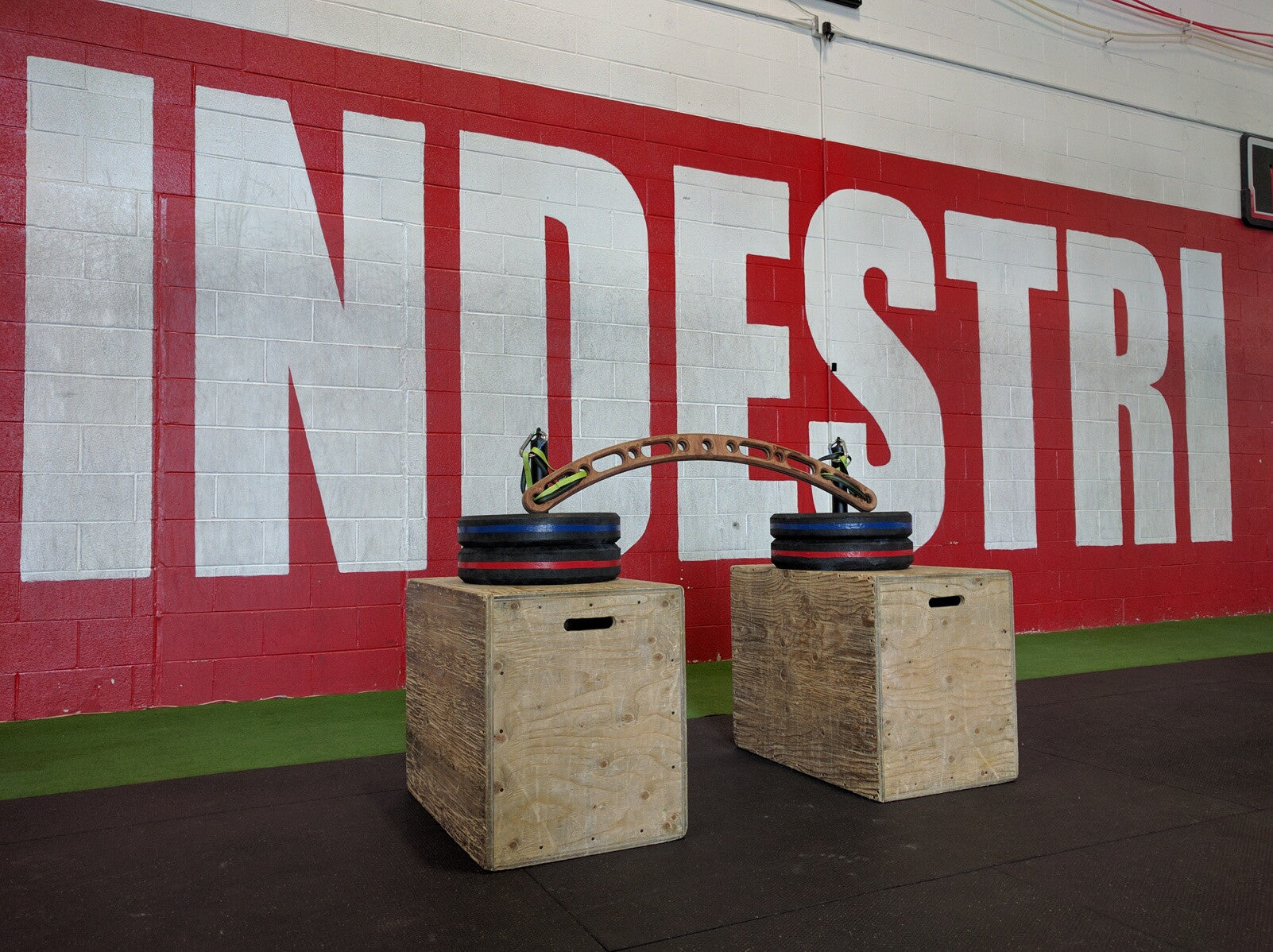 Our inaugural Yoak Session Blog comes to you from shores of Georgian Bay, in Collingwood, Ontario, Canada. This is where you'll find CrossFit Indestri, a world class facility in a town of only 20,000 people. Founded in 2010, CrossFit Indestri has grown from a modest 2700 square feet to almost 8000 square feet. Most importantly, Indestri has their incredible custom 15' wood and metal rig. When we saw it we wondered how many Yoak's could be suspended on it? So much core stability and strength symmetry potential!
Collingwood boasts an active community from a broad range of disciplines and interests including: biking, skiing, running, hockey, climbing, sailing, windsurfing, and gymnastics. This enabled us to connect with a broad demographic across all spectrums: kids to retirees, and newer movers to pro athletes. Our sessions here were some of the first to help us understand the significance of the lever action in suspension mode and how quickly people learned about their strength imbalance. We loved people's appreciation when they realized how their left or right dominance impacted their ability to do a pull-up, a row, a pushup, or a dip.
Owners Steph, Stouty, and Jen gave us the run of the place so we were able to set up the Yoak in various configurations. We set up the Yoak in Suspension, Bar, Squat and Parallette Modes to enable the members to push, pull, squat, yoke walk, and lunge their way to new perspective on strength symmetry and core stability. Below is a Stability Bench Press with the Yoak in Suspension Mode. Notice the arc of the Yoak enables a deeper range of motion with its concavity over the chest.
We also saw how much people appreciated the ergonomic shape of the Yoak. It's arc helped people with limited shoulder mobility more comfortably load for squats, lunges, and yoke walks. When suspended, the arc shape also offers a natural wrist position. This is shown in Indestri's "Fit for Life" class for scapular retractions:
There was also revelation around the pendular movement of the loading pins and bumper plates for bar work. The pendulum motion and chaos of gently swaying weights was a perfect core stability exercise with the spine safely loaded and vertebrae stacked. As with other types of stability training, we saw how energy diverted to stabilizers forced people to check their limits and egos. Those who could usually yoke walk 400-500lbs were finding new challenge at only 180lbs.
Even with all of the other uses and applications of the Yoak we've seen at Indestri, this is one of our favourites. We didn't even have to tell Coach Steph McKean that there was a "Swing Mode" with the Yoak. Great for pushups as well as "swinging"!
Thanks again to Indestri for being such a welcoming facility and for letting us share our passion for mindful movement with them. Can't wait until we have the time to get back down there. In the meantime we'll live vicariously through the Yoak posts on Instagram!
— The Yoak Team
Founded by former NHL'er Scott Thornton, the affiliate is now run by Chris Stoutenburg (AKA "Stouty"), Jen Nichol, and Stephanie McKean. Three passionate movers and community advocates who contribute meaningfully to the world of fitness through affiliations with UGSERIES, WheelWOD, and Women Strong. These three are supported by a group of talented and equally motivated coaches. CrossFit Indestri (AKA Indestri) offers the full range of traditional CrossFit programming including: CrossFit Classes, High Performance Camps, Personal & Team Training, CrossFit Indestri Kids, and CrossFit Indestri Moms. They even complement this programming with in-house Massage Therapy, Acupuncture, and Physiotherapy services. The facility hosts just about every toy a CrossFitter or mover could hope to find. The standard plates, bars, kettlebells, plyo boxes, battle ropes, speed and skipping ropes, and custom pullup bars, a super yoke, parallette bars, and punching bags. They have SkiErgs, Airdynes, Concept Rowers, but of most interest to us was the diverse equipment like their BandBell Earthquakes Bars.
Jen Nichol, Stephanie McKean, Chris Stoutenburg a.k.a. "Stouty"
Todd Greenning, Sarah Reid, Brit Holmberg, Neal Ross, Bonnie Campbell, Dillon Fremlin, Morgan Hancock, Scott Thornton, Chad Warren Jordan McCarl, Shannon Mathieson, Jay "Hardknoxx" Alexander, Nate Clingersmith, Joanna Robinson, Jennifer Redding
CrossFit Classes
High Performance Camps
Personal & Team Training
CrossFit Indestri Kids
CrossFit Indestri Kids Camps
CrossFit Indestri Moms
Massage Therapy
Acupuncture
Physiotherapy